Complete Equipment Company
Counterfeit Lift Inspection Labels Found in Texas Auto Dealership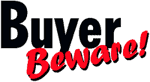 CORTLAND, NY – (March 16, 2021) The Automotive Lift Institute (ALI) warns of counterfeit annual lift inspection labels being applied to automotive lifts. The following is a safety notification from ALI that automotive lifts installed in Harlingen, Texas, bear an unauthorized annual inspection mark falsely claiming ALI lift inspector certification.
Automotive lifts bearing the label below have not been evaluated by an ALI Certified Lift Inspector to the appropriate American National Safety Standard, and the status of compliance with any current safety requirement is unknown.
Identification of Counterfeit Labels: Complete Equipment Company (Mission, Texas) is not affiliated with ALI.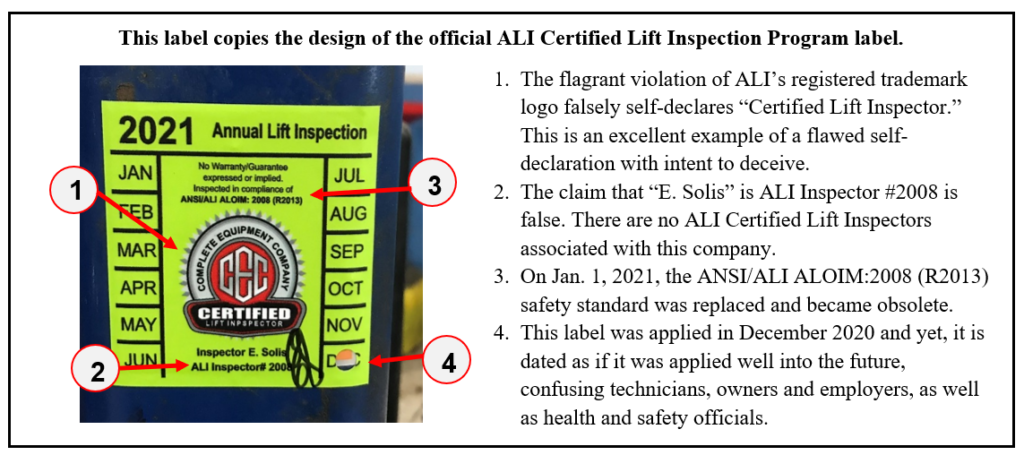 Remedy: ALI recommends hiring only ALI Certified Lift Inspectors and insisting on a Check360™ Certified Lift Inspection.
ALI Certified Lift Inspectors have been tested and found qualified to inspect any automotive lift to the requirements of the current edition of the ANSI/ALI ALOIM lift safety standard. The ALI Lift Inspector Certification Program is the only program that independently tests and certifies lift inspectors.
Check360 is a comprehensive lift inspection process backed by ALI as meeting all the requirements of the current ANSI/ALI ALOIM standard. A Check360 Certified Lift Inspection includes extensive examination of a lift's structure, electrical and mechanical components, and a review of training logs, operating instructions and safety materials. Only ALI Certified Lift Inspectors are qualified to offer Check360 inspections.
At the conclusion of a Check360 inspection, the ALI Certified Lift Inspector will provide a thorough report of the results and will apply an exclusive Check360 Certified Lift Inspection label to every lift that passes. The copyrighted label features the distinctive Check360 mark in the center, the ALI Certified Lift Inspector hologram, a serial number matching the lift inspection report, and the inspector's individual four-digit ID.
If your lift inspection label doesn't have two holograms and the Check360 mark, you did NOT receive a Check360 Certified Lift Inspection.
If you suspect you have received a counterfeit lift inspection label or a copycat inspection label, please contact ALI at 607-756-7775. To find a local ALI Certified Lift Inspector and schedule a Check360™ Certified Lift Inspection, visit https://www.autolift.org/check360-certified-lift-inspection/.
ALI continues to promote the safe design, construction, installation, inspection, and use of automotive lifts. The integrity of the ALI annual inspection label and the ALI Certified Inspector mark are of paramount importance.