Become a Certified Inspector
Automotive Lift Inspector Certification Program – Participant Application, Initiation Fee, and Attendance at one of the scheduled Participant Orientation Meetings.
Registration Price: $2,100 USD  |  Register Now
Once registered, ALI staff will provide the initial documents to complete within 48 hours of receiving your registration payment.  We will also require your company's proof of legal entity and that ALI is named as additionally insured under the general liability coverage on your insurance policy for $1 million (U.S.).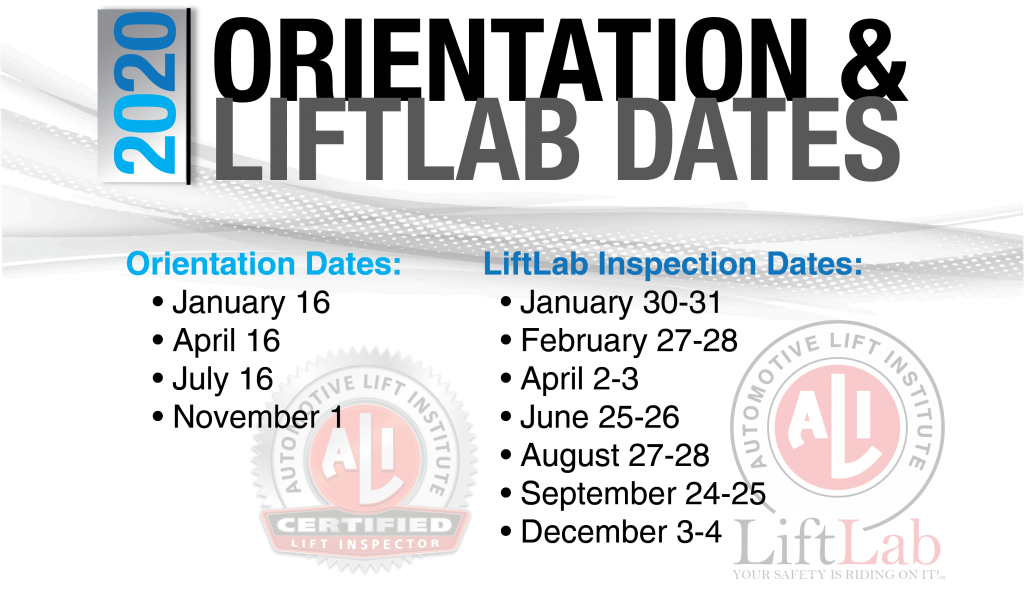 To get scheduled for one of these events, please email us with the date you wish to attend.
---
More Details: Automotive lift inspectors, certified by ALI on behalf of the Participant company, shall be directly employed by the Participant or the Participant's Authorized Operating Facility, and shall be classified as a W2 employee or its equivalent if in other countries.
With the acceptance of the above documents, a Program Participation Agreement shall be mailed for execution. Program binder, online access to the Inspector Certification Program Manual, and first Candidate's course materials will ship following the return of completed Program Participation Agreements.
The Certification Program has been developed as a self-study program, although inspectors can choose to attend training classes offered by some of ALI's Member Companies.  Attendance at one of these ALI Member Company-sponsored training classes is not a requirement of the Certification Program.
There are two exams that each inspector must pass.  There are additional fees for both exams. To locate a testing facility near you, click here.
Note: a representative from the registered company must attend one of the Orientation Meetings in order for the candidate to be eligible for the first exam.
Certification is granted after successfully passing both exams, completion of required Practical Experience Inspections, and approval of all documentation by the Program Administrator.