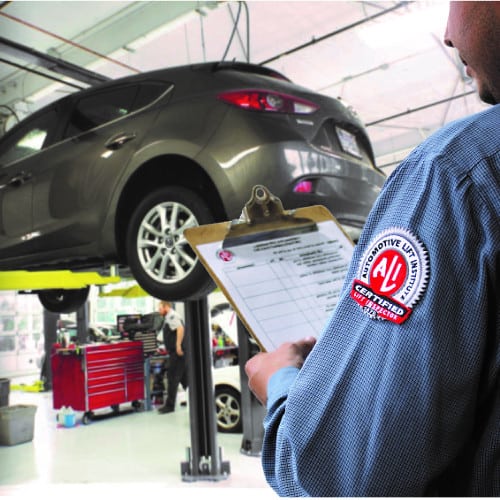 Why do I need to get my car lift inspected
When was the last time your car lift was inspected? One month ago? Six months ago? Has it been a year or even longer? If you're not quite sure when your last car lift inspection was, or if it was more than one year ago, you need to get your car lift inspected!
Car lifts are heavy machinery, and like any piece of heavy equipment, they require regular attention to function properly and safely. Periodic car lift inspections can help you:
identify repair needs and correct them before they become disruptive to your business operations or result in catastrophic failures;
ensure that maintenance activities are tended to on manufacturer-recommended timelines, extending the life of the lift;
have confidence that your lift is safe to operate for your employees;
keep you in compliance with national standards for workplace safety and lift operation.
For lift operators and technicians, car lift inspections ensure that their safety is not in question. Inspections verify that a lift is in good working condition, meaning that it is undamaged, up-to-date on required maintenance, and functioning as intended. Inspections also ensure that training documentation is current and operators have been properly instructed on the use of the lift. While operators should visually check the lifts they use, professional annual inspections provide a meticulous examination of the lift and all of its parts to catch any deficiencies before they become a hazard. The ultimate goal of an inspection is to confirm that a lift is safe to use.
Vehicle owners also have a vested interest in car lift inspections: a lift that is faulty but still in service poses a hazard not only to technicians, but to customer vehicles! Lift inspections verify that the lift is operating smoothly and uniformly; an inspection will also ensure that the controls are working as expected. As a result, vehicle owners can be confident that their car is safe from accidental damage and in good hands on your lifts. Your employees will also be able to focus on service provision and proper safety protocols when their equipment functions as it is intended to.
Finally, as an car lift owner or operator, your business runs more effectively when your lifts work as expected with minimal malfunctions. Lifts that function improperly or inconsistently should be removed from service until they can be repaired, which affects your ability to serve customers. In the worst case, a lift that malfunctions or breaks can cause severe property damage and bodily harm to your employees. Regular inspections are the best method of catching problems before they become disruptive or cause accidents, and they can be planned and scheduled into your business activities. As the lift owner, it's up to you to ensure that the machinery is in good working condition. Regular lift inspections help you do that on a predetermined schedule, and they consume less time and money from your business than that demanded by an accident or malfunction.
Conducting regular inspections and tending to any issues promptly enables you to keep your lift running smoothly day in and day out. Regular inspections are also an important component of an OSHA-compliant lift safety program in your workplace, alongside employee training for car lift operators and record-keeping.
If you're still not convinced that regular auto lift inspections are a best practice for your business, you need to be aware that the  American National Safety Standard covering auto lift operation, inspection, and maintenance, ANSI/ALI ALOIM:2020 mandates that a "qualified lift inspector" inspect every lift at least annually. You are also required to keep records of periodic inspections as well as any associated repairs or replacements. In the event of a workplace accident or injury involving a lift, you may be asked to provide inspection and repair records to OSHA or other government entities.
Like the lifts themselves, not all lift inspections are created equal. To make sure your lifts are properly inspected, only hire ALI Certified Lift Inspectors and demand the Check360 Certified Lift Inspection. Check360 is a comprehensive lift inspection that is backed by the lift industry safety watchdog Automotive Lift Institute (ALI) as meeting all the requirements of ANSI/ALI ALOIM:2020, including detailed examinations of the lift structure, mechanical and electrical components, and related training and safety records. The ALI Lift Inspector Certification Program is the only independent verification of inspector qualification in North America–and you can find an ALI Certified Lift Inspector using ALI's online directory
Remember, getting your car lift inspected isn't just a matter of standard compliance–it's also about enabling your business to provide great customer service and making sure your operators go home happy and healthy at the end of the workday. Schedule an inspection with a qualified inspector near you to ensure your automotive lifts are safe and standard-compliant for your operators and customers.