Go Back
Longtime Automotive Lift Institute Leader E.K. "Chic" Fox Dies
06-10-2020
Fox devoted 43 years to ALI and vehicle lift safety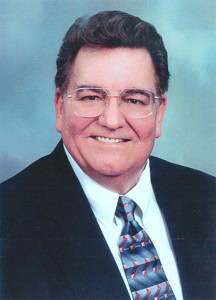 Cortland, New York (June 10, 2020) – Longtime Automotive Lift Institute (ALI) leader E.K. "Chic" Fox died at home in Indiatlantic, Fla., on June 6 after a long illness. Fox dedicated 43 years of his life to ALI and improving automotive lift safety.
Fox was named the first president of ALI in 1974 after working 12 years in support of the organization. He retired in 2005. His leadership is credited with moving ALI onto the path of redefining industry safety requirements and establishing ALI as the safety watchdog for the North American vehicle lift industry.
"ALI would not be the organization it is today without the decades of hard work and leadership Chic provided," says R.W. "Bob" O'Gorman, ALI president. "Millions of technicians across North America owe their safety on the job to initiatives he spearheaded with our Member Manufacturers."
It was during Fox's tenure that ALI moved the industry from a basic lift design standard to a performance-based safety standard approved by ANSI; developed requirements for third-party lift testing and certification; introduced the ALI Gold Certification Label; and created the first lift safety training materials including Lifting It Right.
"Chic's friends will long remember him as an inveterate debater of matters political, editor of texts composed by others, and always warm but sometimes irascible conversationalist," says longtime friend F.G. "Rick" Heath, ALI technical liaison and secretary of the ALI Safety and Standards Technical Committee.
Fox is survived by his wife and career partner, Anne, as well as widespread family. Per his wishes, no services will be held.
About ALI
The Automotive Lift Institute (ALI) celebrates 75 years of serving as the lift industry safety watchdog in 2020. Its mission is to promote the safe design, construction, installation, service, inspection and use of automotive lifts. In 1947, ALI developed the first Commercial Standard covering vehicle lifts published by the National Bureau of Standards. Today, ALI sponsors several national lift safety standards and offers third-party certification programs for automotive lifts and automotive lift inspectors.
#
Go Back