Go Back
OEM-Recommended Lifting Points For Model Years 2000 – 2022 Now Available in New Lifting Points Guide from Automotive Lift Institute
01-11-2022
Cortland, New York (Jan. 11, 2022) – If you're using a frame-engaging lift like a two-post lift or some inground lifts, you always need to check the vehicle manufacturer's recommended lifting points as the appropriate place for the lift to contact the vehicle. The 2022 edition of Vehicle Lifting Points for Frame Engaging Lifts from the Automotive Lift Institute (ALI) includes many OEM lifting points for cars, SUVs, vans and light-duty trucks from model years 2000 through 2022.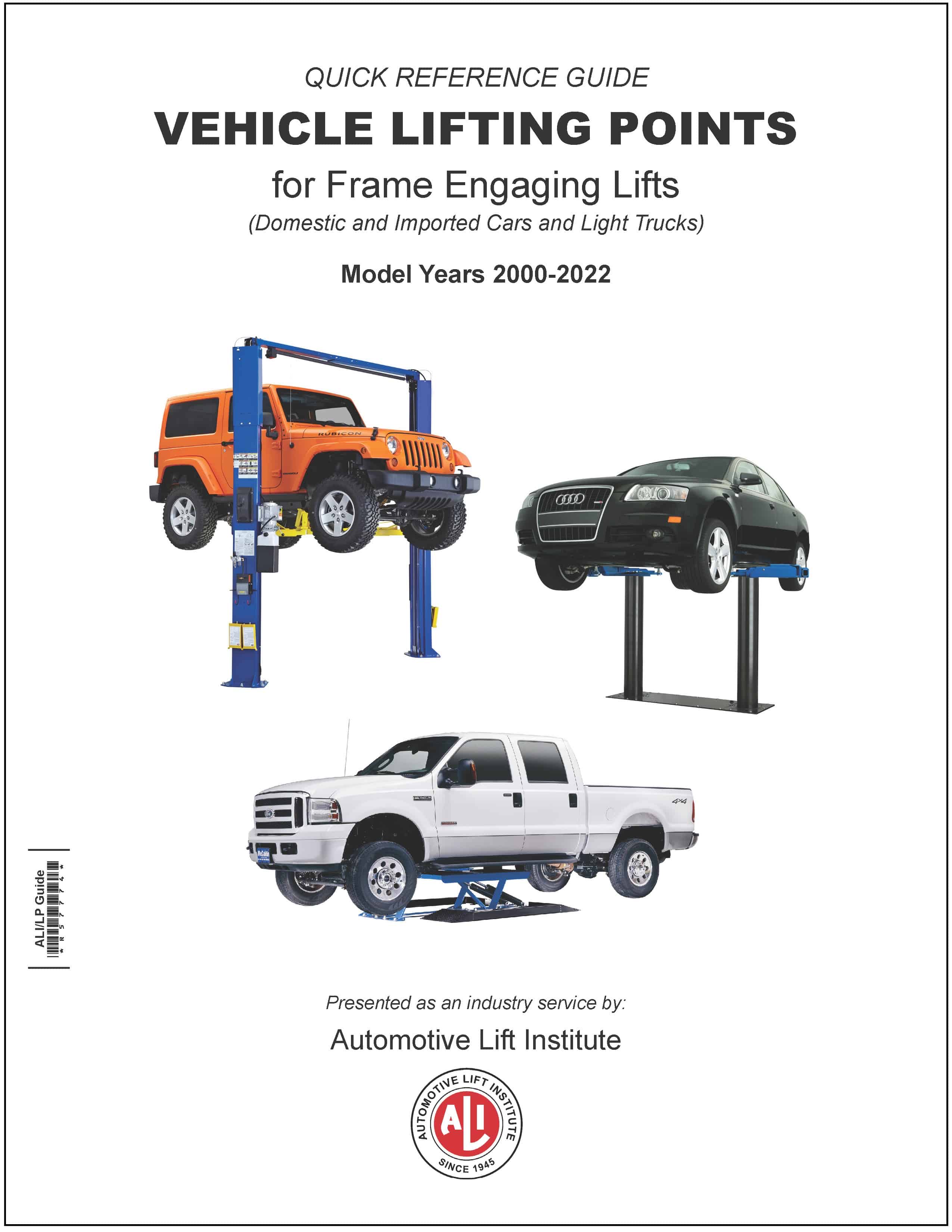 This year's updated Lifting Points Guide features two added sections with diagrams for "Safe Lifting Suggestions" covering examples of common lift types and typical adapters. Additionally, the material used to produce this year's guide has been replaced with an environmentally friendly newsprint to support ongoing recycling and sustainability programs being undertaken globally.
ALI annually sponsors an updated Lifting Points Guide as an industry service. Lifting points are showcased in more than 200 undercarriage images. The industry standard covering lift operation, inspection and maintenance, ANSI/ALI ALOIM: 2020 requires shops to make lifting points information available to technicians, and ALI Certified Lift Inspectors check and report on the availability of the latest Lifting Points Guide during annual lift inspections.
The Lifting Points Guide is available at ALI's online store, autolift.org/ali-store/alilp-guide/ and now through Amazon at https://www.amazon.com/automotiveliftinstitute.
About ALI
The Automotive Lift Institute (ALI) has served as the lift industry safety watchdog for more than 75 years. Its mission is to promote the safe design, construction, installation, service, inspection and use of automotive lifts. In 1947, ALI developed the first Commercial Standard covering vehicle lifts published by the National Bureau of Standards. Today, ALI sponsors several national lift safety standards and offers third-party certification programs for automotive lifts and automotive lift inspectors.
For more information, visit autolift.org or call (607) 756-7775. You can also connect with ALI on Facebook at facebook.com/LiftInstitute, on Twitter at twitter.com/LiftInstitute, and on YouTube at youtube.com/LiftInstitute.
Go Back