Go Back
Counterfeit Claim – ALI Approval in UK
8-1-2010
Counterfeit Claim of ALI Approval Appears in UK
As depicted in the photo to the right, this claim of ALI approval surfaced recently during an inspection of an automotive service garage in the UK. The lift, manufactured by Qingdao Jinhua Industrial Group, was distributed by Dunlop Garage Equipment of Northampton, UK.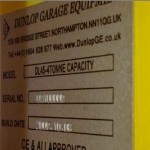 According to the Automotive Lift Institute's President R. W. O'Gorman, "neither Qingdao Jinhua Industrial Group nor Dunlop Garage Equipment is authorized to depict this model as ALI Approved." O'Gorman noted the claim presenting "ALI Approved" on the model "DL45-4TONNE CAPACITY" IS NOT VALID and indicated other instances of counterfeit compliance by this offshore manufacturer are beginning to appear in the US and Canadian markets. Examples of such products can be found by visiting "Buyer Beware" at www.autolift.org. Automotive lifts bearing this model number and presented as "ALI APPROVED", but delivered without a third party certification mark (ALI/ETL serialized gold certification label) attached to the actual unit represent a COUNTERFEIT product.
Before making a lift purchase visit the FAQ section of ALI's website and become an educated purchaser.
Go Back